Crimped Wire Quarry Screen
Firstlin offers Plain Crimped mesh and Lock Crimped mesh for quarry screen and vibrating screen manufacture. The wave type special mesh wire is made with chiefly galvanized steel wire.
Lock pre-crimp mesh:
Unlike plain crimped mesh, lock crimped mesh is characterized by straight sections of wire connected by a well defined bump at the wire intersections, such a manner to actually lock the wires together, offering further assurance of no wire movement. Our lock crimp wire mesh is good in quality and competitive at price.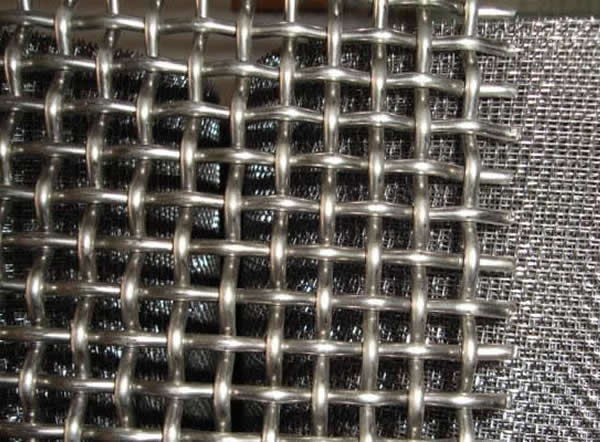 Pre-Crimped Iron Screen
Lock Crimped Mesh and Plain Crimped Mesh Basic Information:
Material:
1) Stinless steel wire(201,202,302,304,304L,310,316,316L)
2) High carbon steel wire,low carbon steel,medium carbon steel, Mn steel wire, black wire.
3) Galvanized iron wire, galvanized steel wire
Aluminum wire,copper wire,non-ferrous metal wire, other materials are available on request.
Application:
Crimped wire mesh is used as fence or filters in a lot of industries; Heavy Duty Crimped wire mesh are also named Quarry Mesh, it is mostly used as screen in mining, coal factory.
Supply form:
In rolls and panels.1mX15m,1.5mX15m,2.0mX20m.etc.
Type of weaving:
Crimped before weave, double-direction,ripples flections, tight lock flections, flattop flections, double-direction flections, list-direction separate ripples flections.
Features:
Crimped screen is substantially woven, firm structure, uniform cells, enduring, graceful, uniform surface, corrosion-resisting, etc.
| | |
| --- | --- |
| | |
| Galvanized Square Opening Crimped Wire Mesh | Wave Mesh with Crimped Wire |
| | | | | |
| --- | --- | --- | --- | --- |
| Wire Gauge(SWG) | Wire Diameter(mm) | Mesh/Inch | Aperture(mm) | Weight(kg) |
| 6 | 4.8 | 1 | 20.6 | 11.5 |
| 8 | 4.05 | 2 | 9 | 16.5 |
| 10 | 3.2 | 2 | 10 | 10.5 |
| 12 | 2.6 | 3 | 5.9 | 10.5 |
| 14 | 2.0 | 3 | 6.5 | 6 |
| 16 | 1.6 | 4 | 5 | 5.5 |
| 17 | 1.4 | 5 | 5.1 | 5.0 |
| 18 | 1.2 | 5 | 4 | 3.6 |
| 19 | 1.0 | 6 | 3.2 | 3.0 |
| 21 | 0.8 | 7 | 2.8 | 2.3 |
| 22 | 0.7 | 8 | 2.5 | 2 |