Hot Dipped Galvanised Iron Wire
Hot Dipped Galvanised Iron Wire ( simplified as HDG wire) with heavy zinc plating is used mainly for wire fences and wire meshes manufacture. Iron steel wire of thinner wire diameter requires less zn coating than thicker wires in the hot dip galvanizing process. The zinc coating quantity per square meter of the iron wire normally increases with the wire diameter to guarantee the galvanizing wire quality.
HDG Wire Quality
DIN 17140
BS1442/BS443
EN 10244-1, 10244-2, 10257-1
HDG Wire Properties
Common tensile strength range: 340 - 500 N/mm²
Wrapping test requirement: 
Wrapping test around a mandrel for one complete turn. The mandrel shall have a diameter of 4d (d nominal wire diameter)- wires shall not break.
Elongation: 10% for all size, with exception of 0.87mm wire which should have minimum elongation at break of 7.5%.
Max resistivity: 138 Ohm.mm2/km at 20 0C.
Zinc Hot Dipped Plating
Min zinc hot dipped plating quantity ranges from 40 gsm to 280 gm per square meter as popular:
Zn coating min 40-50 g/m2
Zinc Coating min 60g/m2
Zinc Coating min 70g/m2
Zn coating min. 90g/m2
Zinc coating min 280gm/m2
Zinc coating min. 270 GSM
Main Hot Dipped Galvanised Wire Products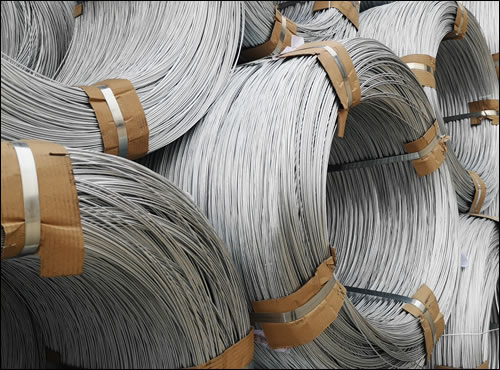 HOT DIPPED GALVANIZED IRON WIRE, 0.71MM
HOT DIPPED GALVANISED IRON WIRE, 2.25MM
HOT DIPPED GALVANISED IRON WIRE, 2.6MM
HOT DIPPED GALVANISED IRON WIRE, 3.6MM
HOT DIPPED GALVANISED IRON WIRE, 4.6MM
HOT DIPPED GALVANISED IRON WIRE, 5.6MM
The zinc coating quantity vary with wire diameters, as shown in following popular sizes:
Hot Dipped Galvanised Wire, 0.90 mm, 130 g/m2 min. zinc coating
Hot Dipped Galvanised Wire, 1.25mm, 170 g/m2 min. zinc coating
Hot Dipped Galvanised Wire, 1.60mm, 195 g/m2 min. zinc coating
Hot Dipped Galvanised Wire, 2.00mm, 210 g/m2 min. zinc coating
Hot Dipped Galvanised Wire, 2.50mm, 215 g/m2 min. zinc coating
Hot Dipped Galvanised Wire, 3.05mm, 225 g/m2 min. zinc coating
Standard Packing
Hot dipped gal. iron wire is packed in coils 550 to 650 KGS per coil, other packing available.
Coil sizes:
Inner Diameter 340-500 mm
Outer Diameter : 850-900 mm